T 158-8P5R33.311 6×6.1R
6×6 Tatra Agrotruck Euro 5 Engine.
EURO 5 TATRA PHOENIX AGROTRUCK: Revolutionizing Agricultural Transport.
6×6 TATRA AGROTRUCK, a powerful and versatile truck designed specifically for agricultural operations. With its unique TATRA design, this truck is built to excel in the toughest off-road conditions, making it ideal for agricultural transport.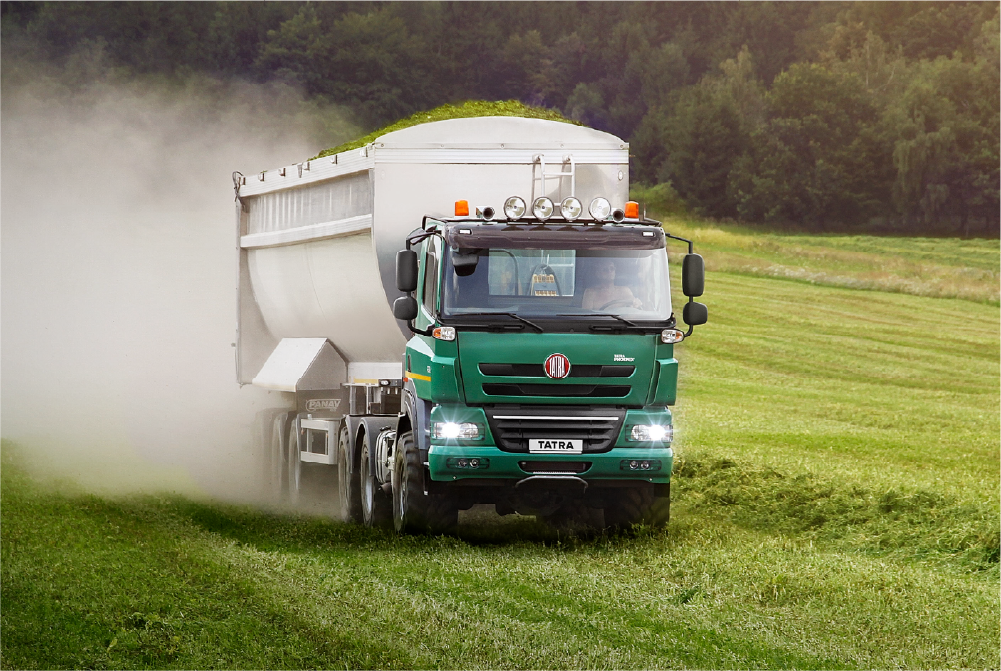 The unique TATRA design makes these trucks ideal for operation in the toughest off-road conditions. Independent swinging half-axles with air suspension provide excellent comfort for drivers. Moreover, when such trucks are used in off-road conditions, they can drive faster than trucks equipped with rigid axles.
As a result, the chassis of the 6×6 TATRA Agrotruck is suitable for agricultural transport both in off-road conditions and on roads or hard surfaces. Efficient performance, both on and off road, is achieved by powerful and efficient PACCAR MX engines, in three different power versions, in combination with an automated 16-speed ZF AS Tronic transmission or an automatic six-speed Allison transmission.
Key Features and Benefits:
Fast Transportation: Save Time, Boost Efficiency With the TATRA PHOENIX AGROTRUCK, fast transportation is no longer a luxury, but a standard. Designed to deliver exceptional performance both on and off the road, this powerful truck allows you to transport goods at higher speeds, saving you valuable time. Ideal for products where processing time is crucial for maintaining their quality, this truck ensures that your agricultural operations stay ahead of the competition.
Low Operating Costs: Maximize Your Profits TATRA PHOENIX AGROTRUCK is engineered to keep your operating costs low. Equipped with the efficient PACCAR MX engines, it ensures optimal fuel consumption, helping you save on fuel expenses. Additionally, with its advanced transmissions, you can expect smooth gear shifts and reduced maintenance costs, allowing you to maximize your profits.
High Load Capacity: Carry More, Earn More When it comes to agricultural transport, every extra load counts. The TATRA PHOENIX AGROTRUCK offers a high load capacity, enabling you to transport more agricultural products and materials in a single trip. This translates to increased productivity and cost savings. Whether you have larger fields or require frequent and fast-paced transportation cycles, this truck is the ideal solution to boost your efficiency and profitability.
Comfort for Drivers: Prioritizing Your Team's Well-being The TATRA PHOENIX AGROTRUCK is designed with your drivers in mind. Its independent swinging half-axles with air suspension provide excellent comfort, reducing driver fatigue and ensuring a smooth and enjoyable ride. By prioritizing your team's well-being, you can expect increased driver retention and enhanced workforce productivity.
Soil-Friendly: Protecting the Earth, Preserving Your Land The TATRA PHOENIX AGROTRUCK is designed to be soil-friendly, making it compatible with low-pressure tires. By reducing soil compaction and preserving the quality of your land, this truck ensures a sustainable approach to agricultural transport. Experience the power of fast transportation, cost-effectiveness, high load capacity, driver comfort, and soil-friendly design.