T 158-8P5R33.391 6×6.2
6×6 Tatra Phoenix Chassis-Cab For Agricultural Swap Bodies
Unleash the Power of the TATRA Phoenix T 158-8P6N23.371 4×4 Truck: The Ultimate Off-Road Driving Experience
Discover why the TATRA Phoenix T 158-8P6N23.371 4×4 is the go-to choice for those who demand the best in off-road capabilities and productivity.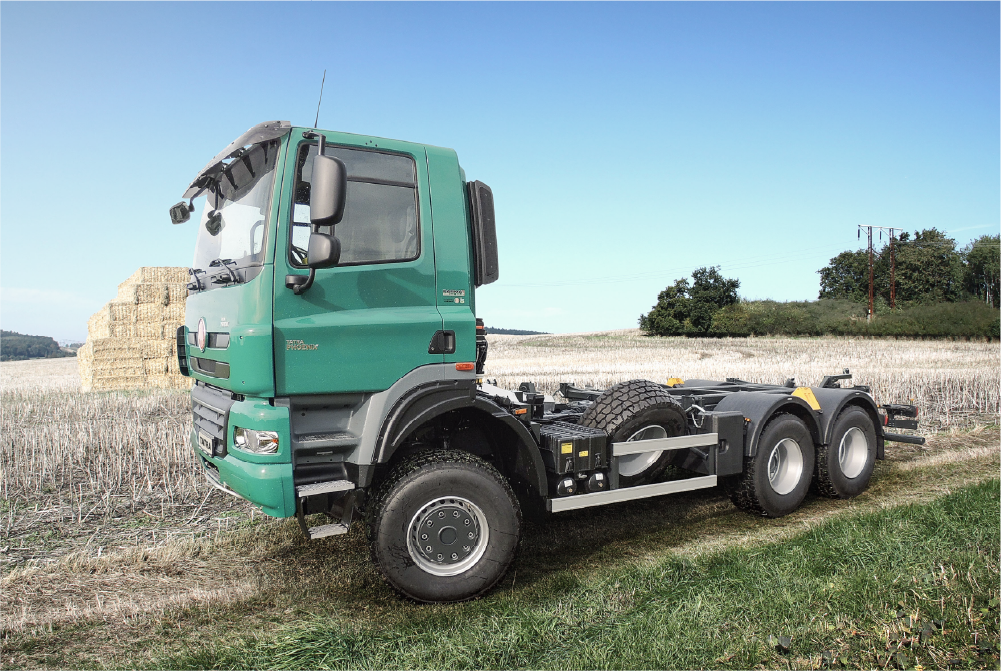 TATRA PHOENIX is a combination of a unique TATRA chassis with a spacious and comfortable cab, modern, powerful and economical PACCAR MX engines, and ZF transmissions. Owing to this combination, TATRA takes you farther -to places which are inaccessible for other trucks. Moreover, due to high productivity and reasonable operating costs you will achieve higher profits. The 6×6 TATRA PHOENIX chassis cab for swap bodies is used for various agricultural bodies and superstructures ranging from two-way tipping bodies, three-way tipping bodies, large-volume superstructures, over tanks to spreaders – for both on-road operation and operation in the fields.
The fixed auxiliary frame superstructure is designed for TATRA PHOENIX chassis with wheel bases of 3,440 mm and 3,900 mm + 1,320 mm. Among other features, the vehicle is equipped with one or two hydraulic cylinders for tipping, a rear frame extension (known as the triangle), where a trailer hitch system and accessories for pulling a trailer, with a fifth wheel, of a total maximum weight of 18,000 kg can be attached.
Key Features and Benefits:
Great Off-Road Mobility: Built to conquer any terrain, the TATRA PHOENIX offers exceptional off-road capabilities, allowing you to navigate challenging environments with ease. No more boundaries, only endless possibilities.
Variability for Users: The TATRA PHOENIX provides unmatched versatility, allowing you to adapt to various agricultural bodies and superstructures. Whether it's two-way or three-way tipping bodies, large-volume superstructures, tanks, or spreaders, this truck is ready for any task.
High Transportation Speed: Experience the thrill of high-speed transportation without compromising safety. The TATRA PHOENIX is designed to deliver impressive transportation speed, ensuring timely deliveries and increased productivity.
High Payload: Maximize your profitability with the TATRA PHOENIX's high payload capacity. Carry heavier loads and increase your efficiency, all while reducing the number of trips and saving valuable time.
Low Fuel Consumption: The TATRA PHOENIX boasts low fuel consumption, allowing you to optimize your operations and save money in the long run. Efficiency meets profitability.
Comfort for Driver: The TATRA PHOENIX prioritizes driver comfort, providing a spacious and comfortable cab that enhances the overall driving experience. Enjoy long journeys with reduced fatigue and increased productivity.
All-Year-Round Use: With the TATRA PHOENIX, you can use the vehicle with various bodies throughout the year. From crop harvesting to livestock transport, this truck is your reliable companion in every season. In collaboration with PARMA servis s.r.o., the TATRA PHOENIX offers a system of swap bodies, including global homologation. This ensures seamless integration and compatibility for a wide range of applications.
Elevate Your Expectations: The TATRA PHOENIX Chassis-Cab for Agricultural Swap Bodies transcends ordinary standards, offering an unparalleled blend of performance, efficiency, and comfort. Experience the difference and unlock higher profits with this exceptional truck. TATRA PHOENIX CHASSIS-CAB FOR AGRICULTURAL SWAP BODIES goes beyond expectations, delivering outstanding performance, efficiency, and comfort.