T 158-8P6R33.341 6×6.2
6×6 THREE-WAY TIPPER
Experience Unparalleled Versatility and Performance with the T 158-8P6R33.341 6×6.2 Commercial Three-Way Tipper.Introducing the T 158-8P6R33.341 6×6.2 Commercial, the ultimate three-way tipper for your commercial needs. With its powerful Tatra Phoenix Euro 6 engine and rugged construction, this truck is built to handle the toughest jobs with ease. Whether you're transporting materials on construction sites, delivering goods, or tackling challenging terrains, the T 158-8P6R33.341 6×6.2 Commercial delivers unparalleled versatility and performance.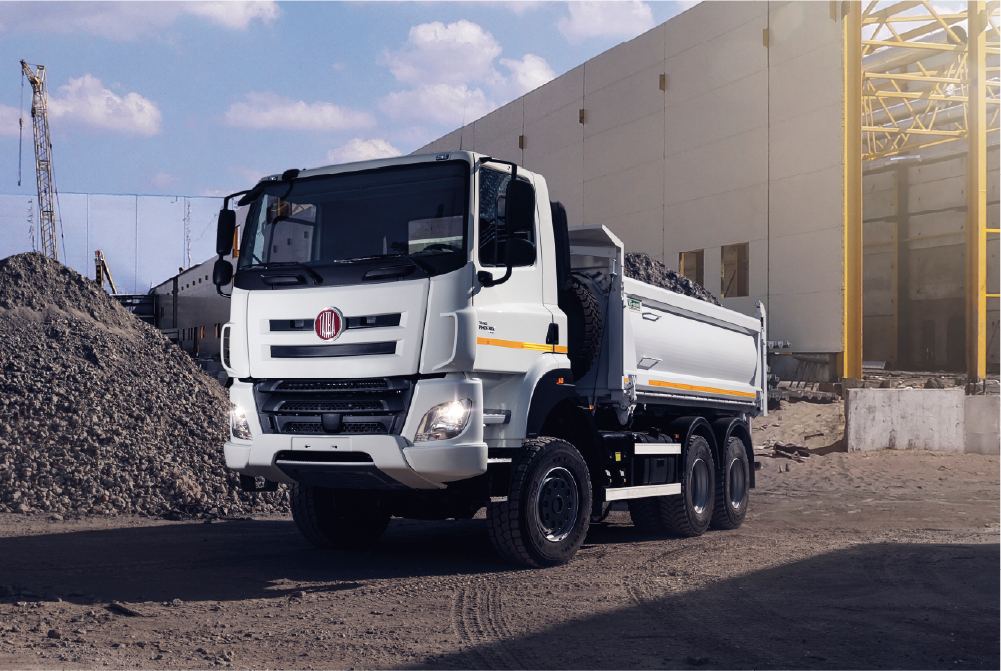 The TATRA PHOENIX Euro6 combines the unique TATRA chassis with a spacious cab, modern and efficient PACCAR MX-11 or MX-13 engines, complying with the strictest emission requirements pursuant to the Euro 6 standards. With this combination TATRA can take you further – to the locations unavailable for other trucks. Powerful PACCAR MX engines offer reasonable operating costs, even in difficult terrain. Vehicles those will be coupled with trailer are then fitted with the MX Engine Brake as standard. The outstanding productivity of TATRA PHOENIX trucks results from high payload and higher transport speeds in even in hard terrain, enabling you to haul more material faster.
Compared to competing vehicles with rigid axles, TATRA PHOENIX achieves higher speed. Thanks to the air suspen- sion on all axles, the vehicle provides a high degree of comfort for both the driver and carried superstructures or cargo.TATRA PHOENIX vehicles use ZF transmissions, both manual and automated, or fully automatic Allison transmissions. The automated 16-speed AS Tronic version offers the driver perfect driving comfort, both in "standard auto" shift mode, or "off-road auto" mode, or in the manual mode.
Key Features and Benefits:
Tipper Functionality: The T 158-8P6R33.341 6x6.2 Commercial features a three-way tipper design, allowing for easy loading, unloading, and precise material placement. With its hydraulic tipping system, you can efficiently handle various types of cargo, saving time and effort.
Powerful Tatra Phoenix Euro 6 Engine: Equipped with the Tatra Phoenix Euro 6 engine, this truck delivers exceptional power and reliability. With its advanced engineering and compliance with Euro 6 emission standards, the engine ensures a cleaner and more efficient performance, while keeping operating costs reasonable.
Robust Construction: The T 158-8P6R33.341 6x6.2 Commercial is built to withstand the harshest working conditions. Its rugged construction and superior suspension system enable it to handle heavy loads and navigate challenging terrains with ease, ensuring durability and longevity.
Enhanced Safety Features: Safety is a top priority with the T 158-8P6R33.341 6x6.2 Commercial. Equipped with advanced safety features such as integrated retarder (intarder) and a reliable braking system, this truck provides optimal control and stability, enhancing driver and cargo safety.
Comfortable and Ergonomic Cabin: The T 158-8P6R33.341 6x6.2 Commercial offers a spacious and ergonomic cabin, designed for driver comfort during long hours on the road. With its adjustable seats, intuitive controls, and excellent visibility, the cabin provides a pleasant working environment.
Versatile Applications: From construction sites to transportation companies, the T 158-8P6R33.341 6x6.2 Commercial is suitable for various commercial purposes. Its three-way tipper functionality, high payload capacity, and exceptional performance make it the ideal choice for businesses looking for a reliable and versatile truck.
Experience the power, versatility, and reliability of the T 158-8P6R33.341 6x6.2 Commercial three-way tipper.