T 158-8P6R33.345 6×6.2
Liebherr Mobile Mixer on TatraPhoenix 6×6 Chassis.
Tatra Phoenix 6×6.2 The Ultimate Solution for Concrete Mixing.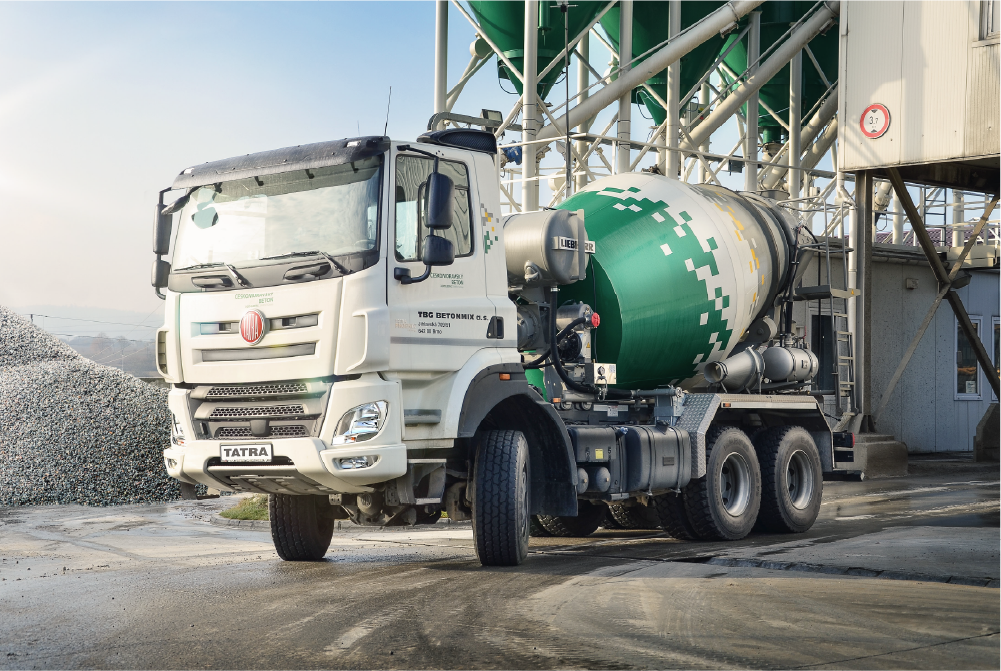 The TATRA PHOENIX Euro6 combines the unique TATRA chassis with a spacious and comfortable cab, modern PACCAR MX engines and ZF trans- missions. Thanks to this, the TATRA PHOENIX trucks can take you further – to the locations inaccessible to other trucks, as well as to higher profits due to economical operation.
Combining the features of the 6×6 driven TATRA PHOENIX Euro6 vehicle with an engageable front wheel drive and Liebherr HTM 604 mobile con- crete mixer superstructure, you will get a vehicle with excellent projections for concrete mix transportation within all the construction works. A univer- sal vehicle will effectively cope with traffic on local roads and seamlessly operate in the conditions of those construction sites where no technological roads are available.
Combining high-quality LIEBHERR mobile mixing tech- nology and all-wheel-drive TATRA PHOENIX chassis provides builders a reli- able solution for the transport of concrete and its high final quality. Thanks to the off-road chassis, the higher total time utilization and hence vehicle productivity is achieved.
Key Features and Benefits:
Unique Tatra Chassis: The Tatra Phoenix Euro 6 combines a robust Tatra chassis with a spacious and comfortable cab, ensuring durability and comfort.
Modern PACCAR MX Engines: Powered by advanced PACCAR MX engines, the Tatra Phoenix delivers exceptional performance and fuel efficiency.
ZF Transmissions: Equipped with ZF transmissions, the Tatra Phoenix offers smooth and precise gear shifting for a superior driving experience.
Engageable Front Wheel Drive: The 6x6 driven Tatra Phoenix Euro 6 vehicle features an engageable front wheel drive, providing excellent traction and maneuverability.
Liebherr HTM 604 Mobile Concrete Mixer: With the Liebherr HTM 604 mobile concrete mixer superstructure, the Tatra Phoenix becomes a versatile vehicle for transporting concrete within construction sites.
Off-Road Capability: The Tatra Phoenix is designed to tackle challenging terrains, allowing it to reach locations inaccessible to other trucks and ensuring higher profits through efficient operation.
Accessibility: The Tatra Phoenix's unique design enables it to access remote locations and navigate through construction sites with no technological roads, ensuring you can reach any job site with ease.
High-Quality Concrete Transportation: The combination of the Tatra Phoenix's all-wheel-drive chassis and the Liebherr mobile mixing technology guarantees the reliable transport of concrete and exceptional final quality.
Enhanced Service Life:The Tatra chassis minimizes torsion forces, extending the service life of the vehicle and reducing service costs compared to vehicles with rigid axles.
Lower Total Cost of Ownership: With its economical operation and reduced service costs, the Tatra Phoenix offers a cost-effective solution for concrete transportation, resulting in lower total ownership costs.
Versatility: The Tatra Phoenix is equally adept at operating on both paved roads and off-road conditions, ensuring high transport speeds regardless of the terrain.
Fording Depth of up to 800mm: The Tatra Phoenix's impressive fording depth allows it to navigate through water obstacles, expanding its usability in various environments.
The Tatra chassis combined with Liebherr mobile mixing technology for seamless operations and exceptional results is your universal solution for all construction works.