T158-8P6R33.391 6×6.2
6×6 CONTAINER CARRIER WITH HOOK LOADER
Powerful and Versatile Truck for Any Terrain.The 6×6 CONTAINER CARRIER WITH HOOK LOADER is the ultimate commercial vehicle that combines innovation, reliability, and superior performance. With its unique Tatra chassis, spacious cab, and modern PACCAR MX engines, this powerhouse is designed to exceed your expectations. Complying with Euro 6 emission standards, it not only delivers exceptional performance but also reduces environmental impact.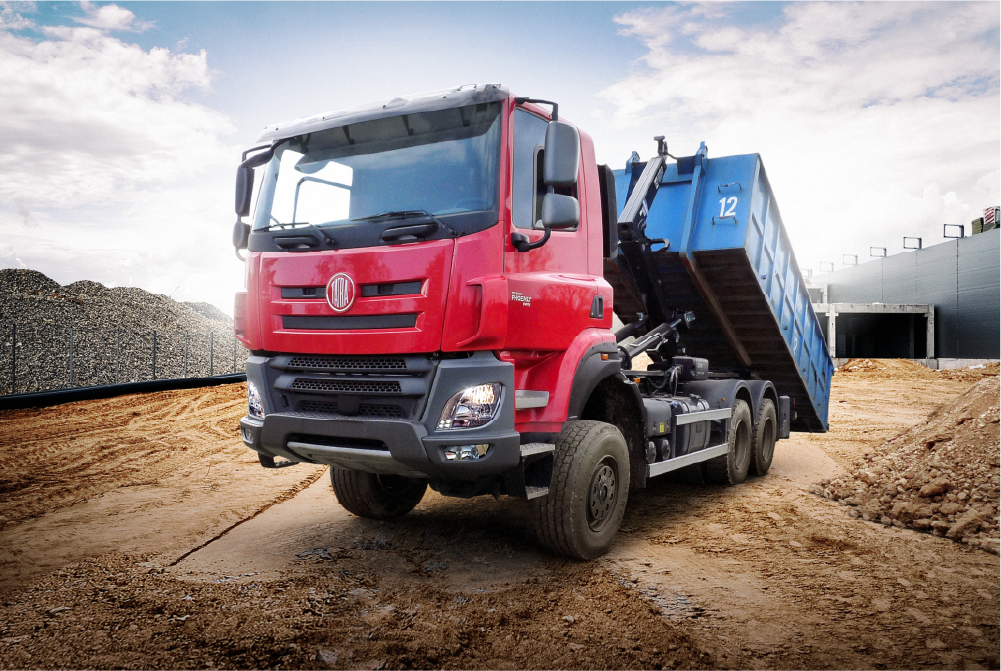 The TATRA PHOENIX Euro6 combines the unique TATRA chassis with a spacious cab, modern and economical PACCAR MX-11 or MX-13 engines, complying with the strictest emission requirements pursuant to the Euro 6 standards. With this combination TATRA can take you further – to the locations inaccessible to other trucks. Powerful PACCAR MX engines offer reasonable operating costs, even in difficult terrain.
The vehicles operated with a trailer are then fitted with the MX Engine Brake as standard.The outstanding productivity of TATRA PHOENIX trucks results from high payload and higher transport speeds in heavy terrain, enabling you to haul more material faster. Compared to competing vehicles with rigid axles, TATRA PHOENIX achieves higher speed. Thanks to the air suspension of all axles, the vehicle provides a high comfort for both the driver and carried superstructures or cargo.
TATRA PHOENIX vehicles use ZF transmissions, both manual and automat- ed, or fully automatic Allison transmissions. The automated 16-speed AS Tronic version offers the driver perfect driving comfort, both in "standard auto" shift mode, or "offroad auto" mode, or in the manual mode.
Key Features and Benefits:
Unrivaled Accessibility: With the Tatra Phoenix Euro 6 Engine, no location is off-limits. Its powerful PACCAR MX-11 or MX-13 engines make it capable of conquering even the most challenging terrains, allowing you to reach places other trucks can't.
Exceptional Productivity: Experience unmatched productivity with the Tatra Phoenix. Its high payload capacity and ability to achieve higher transport speeds in heavy terrain enable you to transport more materials faster, increasing your efficiency and profitability.
Superior Comfort: Enjoy a comfortable and smooth ride in the Tatra Phoenix. Equipped with air suspension on all axles, it provides a high level of comfort for both the driver and any superstructures or cargo being carried. Say goodbye to rough rides and hello to a luxurious driving experience.
Reliable Transmissions: The Tatra Phoenix offers a range of reliable transmission options, including ZF transmissions (manual, automated, or fully automatic Allison transmissions). The automated 16-speed AS Tronic version ensures perfect driving comfort, reduces fuel consumption, and protects the drive train from errors.
Versatile Hauling Capabilities: The container carrier with Contsystem's Multilift XR 18S.56 hook loader is a true industry game-changer. With a superstructure capacity of 18,000 kilograms, a container length range of 4.5 to 6.6 meters, and an angle of inclination of 50°, it is the ideal solution for any industry, especially construction.