T 158-8P5R43.232 8×6.2
8×6 Three-Way Tipper
An exceptional blend of innovation and efficiency designed to redefine your commercial operations. This groundbreaking vehicle harmonizes the distinctive TATRA chassis with an expansive, driver-centric cab, cutting-edge PACCAR MX engines, and ZF transmissions. Embark on a journey that takes you beyond ordinary boundaries and towards heightened profitability.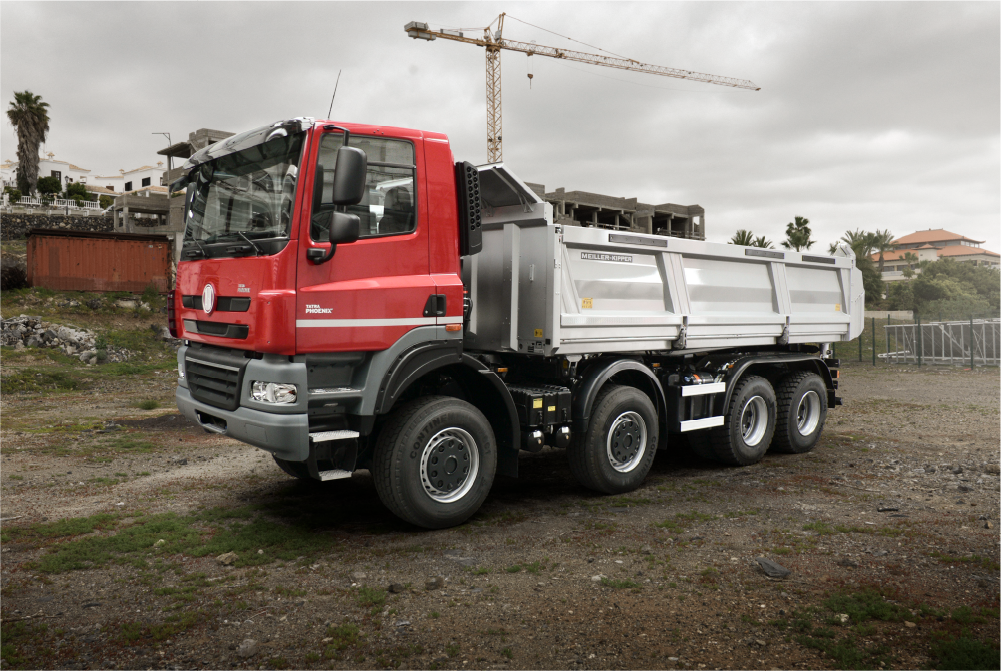 The TATRA PHOENIX is a combination of a unique TATRA chassis with a spacious and comfortable cab, modern PACCAR MX engines, and ZF transmissions. Thanks to these features, TATRA TAKES YOU FARTHER – to places which other trucks cannot reach, and also to higher profits thanks to great efficiency and productivity.
The excellent productivity of the TATRA PHOENIX is a result of high payload and high speed that you can achieve in off-road conditions. With TATRA trucks you can transport more material faster.Efficient PACCAR MX engines offer reasonable operating costs even on hard terrain. The TATRA PHOENIX achieves higher speed and lower fuel consumption compared to competitors' rigid or articulated dump trucks used in e.g. mining operations. In addition, the TATRA unique chassis design together with air suspension on all axles enhances comfort of the TATRA PHOENIX. For GVW over 40 tons (6×6) and 50 tons (8×8), wheel-hub reduction gears are used.
Features:
Unique TATRA Chassis: The TATRA PHOENIX stands apart with its exceptional chassis design. Unleash your access to unreachable destinations that evade standard trucks.
Spacious & Comfortable Cab: Elevate your drivers' experiences with the TATRA PHOENIX's spacious, ergonomic cab. Prioritizing their comfort translates to reduced fatigue and heightened productivity, resulting in smoother operations.
Efficient PACCAR MX Engines: Take on challenging terrains with confidence. The TATRA PHOENIX boasts advanced PACCAR MX engines that offer optimal efficiency and cost-effectiveness. Experience higher speeds and lower fuel consumption, outpacing rigid or articulated dump trucks.
Enhanced Off-Road Performance: With the TATRA PHOENIX, off-road challenges become mere stepping stones. Navigate with ease through rough terrains, accessing sites that seemed distant before. The unique chassis design and air suspension across all axles ensure a ride that's as comfortable as it is capable.
High Payload, High Speed: The TATRA PHOENIX propels productivity to new heights. Benefit from substantial payload capacity and remarkable off-road speed.
Optimized Fuel Consumption: Operating costs no longer hold you back. TATRA PHOENIX's efficient engines mean reasonable costs, even on demanding terrains. Experience both higher speeds and lower fuel consumption, leading to enhanced profitability.
Benefits:
Unmatched Off-Road Prowess: The TATRA PHOENIX dominates off-road conditions, effortlessly granting you access to remote sites. Its robust build and comprehensive air suspension assure stability, ensuring a smooth journey across challenging terrains.
Elevated Transportation Speed: With the TATRA PHOENIX, you're not just moving materials – you're accelerating your projects. Unlock impressive transportation speeds, trimming project timelines and boosting productivity to unmatched levels.
Amplified Payload Capability: Rethink the way you transport materials. The TATRA PHOENIX's impressive payload capacity translates to fewer trips, less operational downtime, and greater profitability an indispensable asset to your operations.
Economical Fuel Usage: Witness a paradigm shift in fuel efficiency. The TATRA PHOENIX's prowess extends to its fuel consumption, minimizing operational expenses while adhering to environmental consciousness.
Driver-Centric Comfort: Your drivers aren't just operators; they're essential contributors. The TATRA PHOENIX's expansive, well-designed cab ensures their comfort.
The 8×6 THREE-WAY TIPPER is beyond innovation, it's a journey towards unprecedented efficiency and profit potential.
Scroll