T 158-8P5R33.391 6×6.2
Universal Combination Vehicle For Timber Transportation.
Efficiency Meets Versatility: Your Ultimate Timber Solution Introducing the TATRA PHOENIX Universal Combination Vehicle for Timber TransportationUnleash the Power of Efficiency and Versatility.This exceptional vehicle combines the outstanding performance of the 6×6 TATRA PHOENIX truck with a range of top-of-the-line features, including an engageable front-wheel drive, a superior superstructure, a telescopic Umikov semi-trailer, and powerful EPSILON equipment.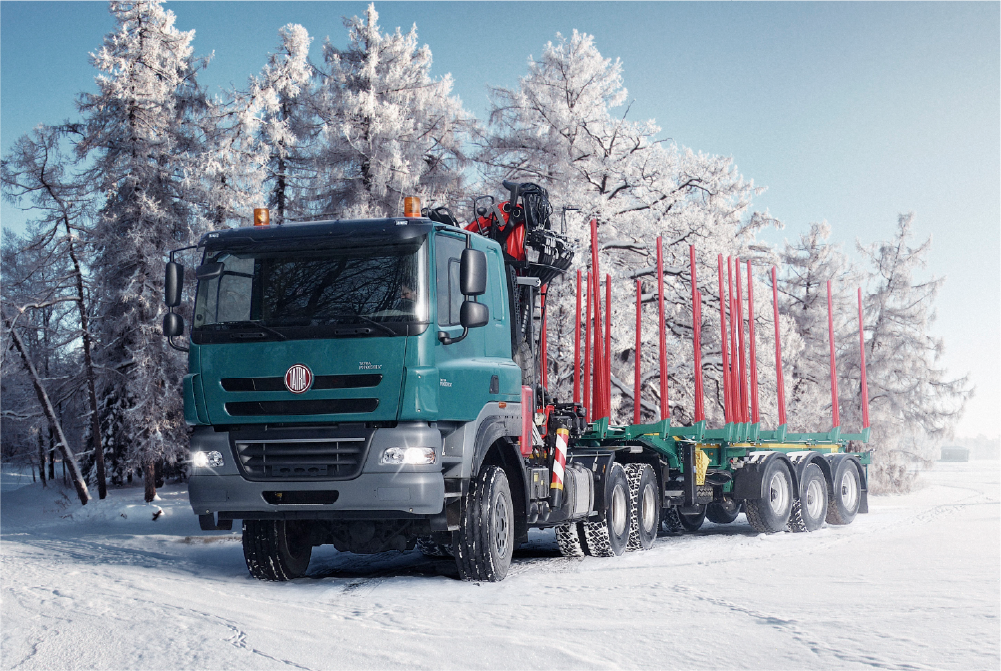 Unmatched Performance, Unparalleled Benefits
The TATRA PHOENIX truck is built on a unique TATRA chassis, offering a spacious cab, modern PACCAR MX engines, and ZF transmissions. With its exceptional off-road capabilities, this truck can take you to places that other vehicles simply cannot reach. But it doesn't stop there. Thanks to its economic operation, the TATRA PHOENIX truck will not only take you further but also lead you to higher profits.
The UMIKOV NPK 39T Telescopic Semi-Trailer: Efficiency Redefined
The three-axle UMIKOV NPK 39T telescopic semi-trailer is a testament to quality and efficiency. Crafted from high-quality materials produced by the renowned Swedish SSAB company, this semi-trailer is built to withstand the toughest conditions. With its movable stakes and hydraulic expansion frame, it offers unmatched versatility. The stakes can be smoothly controlled from the hydraulic crane seat, without the need for side locking, and are secured by hydraulic locks. This system, coupled with its low kerb weight, makes the UMIKOV NPK 39T highly universal and incredibly effective.
EPSILON Q170 Z96 Hydraulic Crane: Power at Your Fingertips
Equipped with the EPSILON Q170 Z96 hydraulic crane, this combination vehicle is a force to be reckoned with. Boasting a working radius of 9.6m and a lifting capacity at the end of the arm of 1,600 kg, this equipment is both powerful and versatile. Compared to other loading equipment, the EPSILON Q170 Z96 crane reduces loading and unloading times by up to 60 percent. This translates to more cost-effective operations and lower operating costs, giving you a significant edge over the competition.
Key Features and Benefits:
High Productivity: With its exceptional performance, this combination vehicle ensures maximum productivity both on and off the road. Get the job done efficiently and effectively, every time.
On-Road and Off-Road Efficiency: The TATRA PHOENIX combines road prowess with off-road dominance. Seamlessly transition from forest trails to highways, maximizing your efficiency in all environments.
Universal Telescopic Semi-Trailer: The UMIKOV NPK 39T semi-trailer is designed to handle a wide range of timber transportation needs. Its versatility knows no bounds.
Highly Powerful Loading Equipment: The EPSILON Q170 Z96 hydraulic crane offers unmatched lifting capacity and working radius, making loading and unloading a breeze.
Comfort for Drivers: With a spacious cab and modern amenities, the TATRA PHOENIX Universal Combination Vehicle for Timber Transportation provides a pleasant and efficient working environment for drivers.