T 158-8P5R33.451 6×6.2
Universal Combination Vehicle For Timber Transportation.
Introducing the EURO 5 FORESTRY T 158-8P5R33.451 6×6.2: The Ultimate Universal Combination Vehicle for Timber Transportation.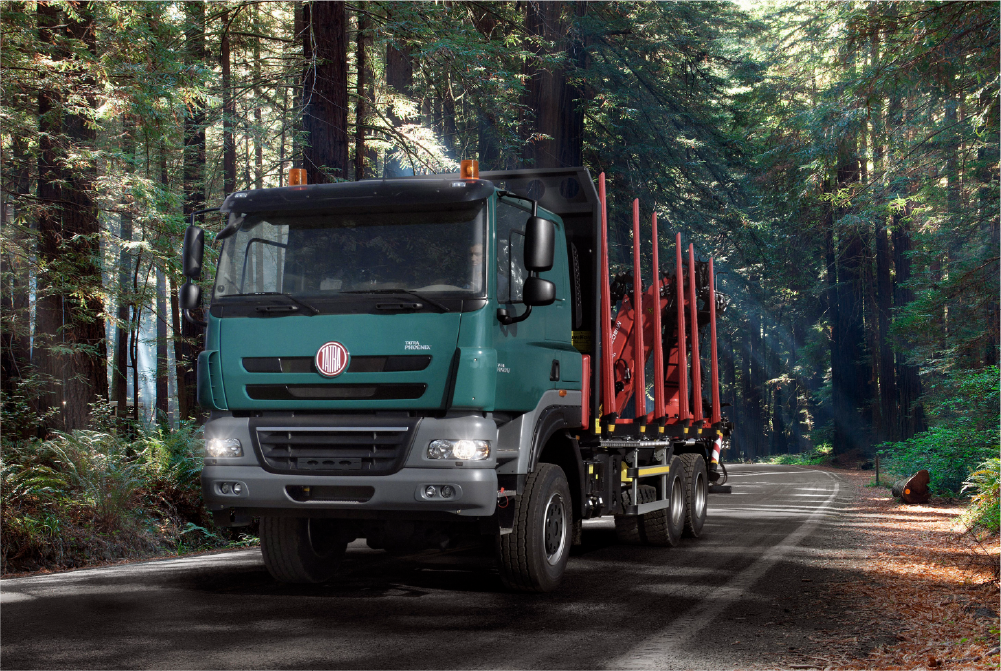 The standard operating regime for road transport is a 4×2 driveline. Frontwheel drive can also be engaged if necessary (4×4), or the axle differential locks can be used. TATRA tractor units are also available in a standard 6×6 version.
Combined with a suitable trailer, this tractor unit is a highly efficient and productive tool for a broad range of transport needs – especially in the construction industry. The TATRA PHOENIX takes you further, reaching places where other vehicles cannot go – and also boosting your profits thanks to its highly efficient operation.
Key Features and Benefits:
TATRA PHOENIX Truck: The TATRA chassis, coupled with a spacious cab, modern PACCAR MX engines, and ZF transmissions, provides outstanding performance and durability. It allows you to reach places that other trucks cannot, making it perfect for off-road timber transportation.
UMIKOV NKD 15 Superstructure: Equipped with mechanically adjustable cross members and stakes, the superstructure ensures secure transportation of timber of any type. It is made from high-quality materials produced by renowned Swedish company SSAB, ensuring durability and strength.
UMIKOV PN 3.24 Trailer: The three-axle trailer features mechanically adjustable stakes, BPW or SAF axles, and air suspension with a possible lifting of the middle axle. It provides exceptional stability and control, even on challenging terrains.
EPSILON M 130 Z 96 Hydraulic Crane: With a working radius of up to 9.6 meters and a loading capacity of 1,210 kg at the end of the arm, this powerful crane enables efficient and precise handling of timber. It minimizes loading and unloading times by up to 60%, resulting in cost-effective operations and lower operating costs.
High Productivity: The EURO 5 FORESTRY T 158-8P5R33.451 6x6.2 offers exceptional productivity, allowing you to transport timber quickly and efficiently. Its powerful equipment and advanced features enable you to complete more tasks in less time.
Off-Road and On-Road Efficiency: With its engageable drive of the front wheels, the vehicle excels in both off-road and on-road conditions. Whether you're navigating through rough terrains or cruising on highways, this combination vehicle ensures maximum efficiency and performance.
Technical Perfection: The superstructure and trailer are designed with technical perfection in mind. The adjustable cross members and stakes ensure the safe transportation of timber, while the high-quality materials used in their construction guarantee longevity and reliability.
Highly Powerful Loading Equipment: The EPSILON hydraulic crane provides exceptional power and versatility. It can handle timber of all lengths with ease, even in tight spaces. This loading equipment significantly reduces loading and unloading times, enhancing overall efficiency.
Comfort for Drivers: The spacious cab of the TATRA PHOENIX truck offers a comfortable and ergonomic environment for drivers. It reduces fatigue during long hours of operation, ensuring a pleasant working experience.
The UNIVERSAL COMBINATION VEHICLE FOR TIMBER TRANSPORTATION with its outstanding performance, advanced features, and exceptional productivity, is the perfect solution for removing timber from the forest and subsequent transportation. Experience the power, efficiency, and comfort that this vehicle offers and take your timber transportation operations to new heights.